For Hanukkah
The Mystery of Hanukkah Harry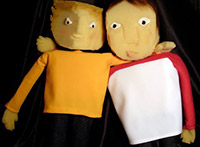 Join Joshua Finkelstein and his best friend Danny as they go on a quest for the identity of the mysterious Hanukkah Harry. They'll ask for help from the audience as they try to sort out the clues they get from their family and community.
Their shenanigans will have the whole audience laughing, yet the show also contains an important lesson about the essence of Hanukkah.
As Josh and Danny discover, Hanukkah Harry doesn't deliver presents; he is alive in anyone who stands up for him or herself and creates a miracle for the people he or she loves. A family show for all ages.
For Purim
The People of Purim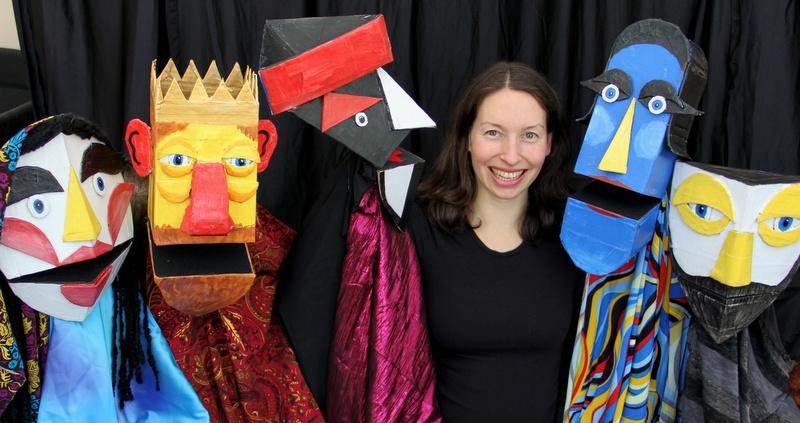 A Purim puppet show for young children featuring big, colorful, Carnivale-inspired puppets. The audience is invited to sing, dance, learn a Middle Eastern rhythm, play Haman says, and get to know the characters of the Purim story. Appropriate for all ages. Especially tailored for ages 3-6.
For Purim
The Funnier-than-a-pie-in-the-face Purim Shpiel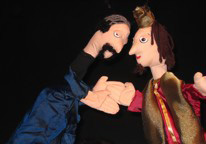 You'll laugh out loud at this twist on the classic Purim shpiel, performed with beautifully costumed hand-puppets above a 5'x 5.5' puppet stage. Pictured at right: Haman (boo, hiss) whispers to King Ahashueros.
For Sukkot
Dusty Builds a Sukkah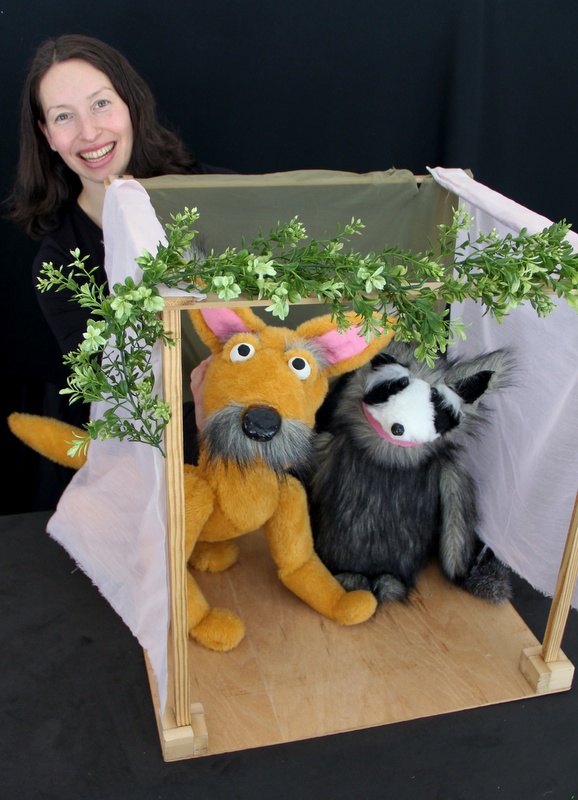 Dusty the dog loves the great outdoors! So this year, he's going to build his very own sukkah. But the fruit decorations mysteriously keep disappearing...

A magical Sukkot puppet show with table-top as well as shadow puppetry components. Recommended for ages 2-8.
For Passover
Moses and Miriam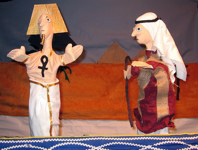 This Passover, you'll learn Miriam's side of the story as well as Moses, and watch these two characters as they grow into leaders. Just watch out for flying locusts!
Also available for Passover is the storytelling show, "Passover Magic" appropriate for ages 8 and up.
For anytime at all
The Fixer, a tale of Rabbi Nachman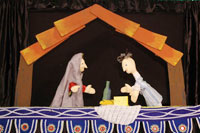 The Fixer, based on the tale of the same name by Rabbi Nachman, tells of a king who can't abide a simple fellow with no worries who is content to have his daily meal of wine, bread, and cheese. The king tries everything he can to prevent the simpleton from earning his daily bread, but will he succeed (question mark) This show is available yearround.