Are you looking for kids' birthday party ideas?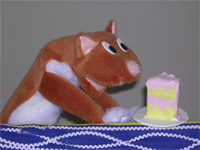 The ever-popular birthday party show is Kate and the Cake-Eating Cat. Introducing Olly, the kitty cute enough to melt your heart-- but hold on to your birthday cake! Olly has a weakness for frosting. What happens when he meets Kate, the new girl in town, and decides to bake her a birthday cake? He'll need help from Pierre the Pastry Chef, Henny Penny, the Cakey monster, and of course, all of his friends in the audience. This interactive show is recommended for children ages 3-8.
For parties with children 0-3, we offer "Puppet Stories and Sing-Along Songs," a highly interactive program alternating folktales with puppets and songs on guitar.
We come to your location and set up our stage, play guitar for a short sing-along before the show, and involve everyone in meeting the puppets after the show. You can also add a puppet-making workshop, all materials included, ages 4 and up.
Just email us at ahandpuppet (at) gmail.com, or call us at 413-367-9134 with the date, show preference, and venue. We will reply promptly to confirm our availability and send you a booking form.
Sample of Kate and the Cake-Eating Cat